5 More Places to Visit in the Laguna Beach Area
Crescent Bay Beach and Crescent Bay Point Park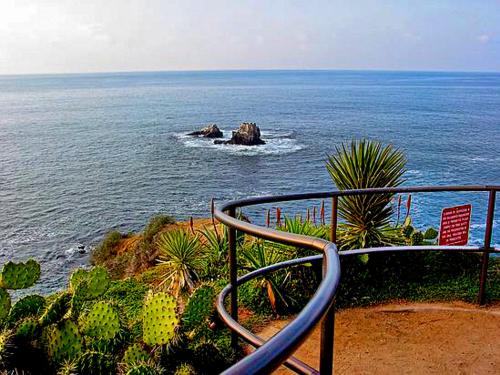 Located on the north end of Laguna Beach, where the Pacific Coast Highway meets Cliff Drive, lies ¼-mile of coastline known as Crescent Bay, a popular location for photographers, sightseers, divers and beachgoers alike.

The main public access for Crescent Bay Beach is on Cliff Drive. One of the first things you will notice is a towering small island known as Seal Rock (pictured), which is home to many playful sea lions. During low tide, the tide pools are exposed at both ends of the cove.

Crescent Bay is home to both Seal Rock and Deadman's Reef, and both are very popular dive areas for scuba diving. In fact, many seasoned local divers believe that Deadman's is the best shore dive in Southern Califorina due to its shallow rocky reefs, pinnacles, kelp forests, and a sandy bottom where angel sharks and bat rays can often be spotted.

Crescent Bay Point Park is above the west side of the beach off Crescent Bay Drive; however, you cannot access the beach from the park. The panoramic 180 degree ocean view from the bluffs at Crescent Bay Point Park make it the perfect spot for everything from weddings to whale watching and you are likely to see one or both of these at Crescent Bay Point Park!
Victoria Beach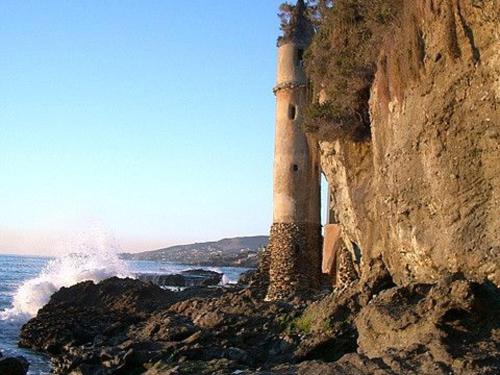 Located south of Main Beach, Victoria Beach is known for its white sandy beach and beautiful water. Even though it is a public beach, it is frequented mostly by locals as it is very difficult to find and parking is limited.

On both the north and south ends of the beach, you will find volleyball courts. Other popular activities at Victoria Beach are skimboarding, body surfing, diving, and fishing.

By far the main attraction is the Victoria Beach Tower (pictured) at the north end of Victoria Beach. This sixty foot picturesque Norman tower was built in the 1920's at a Victorian beach home. The interior is a spiral staircase leading down the cliff to the beach although it has now been condemned from further human use due to its faltering condition. The 16th century looking castle like tower is a must see for tourists and photographers.

Photo credit: https://flic.kr/p/3NzG
Fisherman's Cove
Fisherman's Cove, located north of Diver's Cove and south of Shaw's Cove, is a popular dive site in Laguna Beach and offers great diving, regardless of experience level. The rock outcroppings on the north side are excellent for finding sea life. The south side contains a large rock reef systems loaded with additional sea life.

During high tides, the entire beach is submerged, so don't leave items on the sand when the tide is coming in!

Photo credit: https://flic.kr/p/8tkdk3
Aliso Beach Park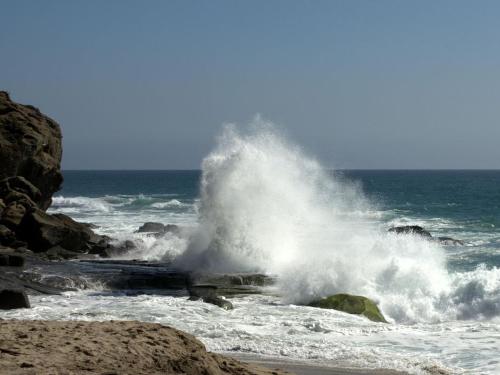 Aliso Beach Park is an easy going family beach with picnic tables, fire pits and playground equipment for the kids. Swimming, surfing, skin diving, fishing and sunbathing are popular pastimes - and of course building sand castles is highly recommended!

Skimboarding originated in Southern California when Laguna Beach lifeguards wanted to surf the local shorebreak that was too fast and shallow for surfboards. Skimboarding has developed since then to ride waves much like surfing, performing aerial maneuvers and pulling into the barrel of the wave.

Every summer, Victoria Skimboards sponsors a contest called the VIC, which is held at Aliso Beach in Laguna; it is one of the biggest competitions in the world.

Photo credit: https://flic.kr/p/ajd1vV
Main Beach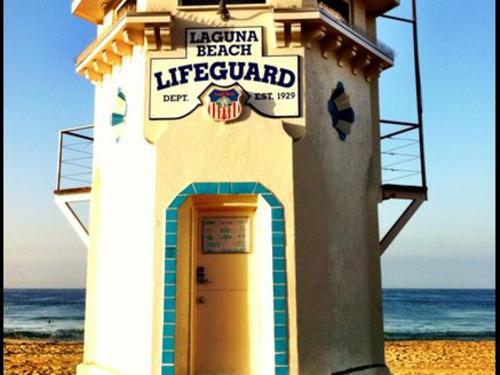 Considered Laguna's "Window to the Sea", Main Beach is a beachfront park and is located in the heart of downtown Laguna Beach, and within walking distance to various restaurants, art galleries, and shopping.

The beach area itself has sand volleyball courts, basketball courts, a playground, benches, picnic tables, public showers and restrooms. The tide pool area is located in the northern section of Main Beach and a stroll along the boardwalk will lead you up the pathway to Heisler Park.
Which ones are you planning to visit on your next trip?
All of these places are tops in our list, so we decided not to number them - and if you were counting, you will realize we only gave you five! The other five
Best Places to Visit in Laguna Beach
are included in the first part of this article; but trust us - it will take you your entire vacation to explore these five, so you will need to book another trip! Be sure to give us a call at
949.494.6533
or
800.225.4551
to speak with our attentive, courteous staff who are ready to answer all of your questions to help you plan a memorable vacation or weekend getaway here in Laguna Beach, California!